Ministries and Missions
Christian Education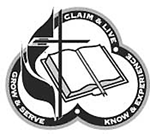 The mission of Christian education at Crawford Memorial United Methodist Church is to invite people on a life-long faith journey of transformation through:
Knowing and experiencing God through Jesus Christ.
Claiming and living God's promises.
Growing and serving as Christian disciples.
The fundamental ministry of the church takes place through the intentional support of the entire church community and in the context of a nurturing environment. It is grounded in scripture, informed by Christian tradition, enlivened in experience, and tested by reason. We believe that we are all called to learn and all called to teach. Our response to this call is essential to a vibrant life-changing faith and to discipleship in the world.
Christian Education (CE) seeks to support the life-long journey of spiritual formation and transformation through developmentally appropriate activities for youth and adults via Sunday morning classes, small groups and several worship services. CE seeks to support teachers and provide spiritual development opportunities. Our 2008-2009 theme is Spiritual Gifts and God's Call to Ministry. We believe that discovering our spiritual gifts and God's call to use these gifts will equip children, youth and adults to live out personal ministries in a meaningful way and help build God's kingdom.
Children's Church School offers classes for children ages 3.9 years old through High School. Each class has team teachers and an aide if necessary. Church School activities support the mission of faith formation through a range of developmentally appropriate activities in graded classes, multi-age events and periodic participation in worship services. Activities include Scripture reading and lessons, prayer, music, offering for identified missions and service projects. Curriculum is faith-based and consistent with the United Methodist tradition. Curriculum for Middle School and High School is flexible with activities related to: spiritual formation skills, connecting faith to daily life, service and missions projects.
Adult Education classes support the life-long journey of spiritual transformation through a range of class topics such as: Bible studies and knowledge of the Bible, spiritual formation skills, connecting faith to daily life, forming values consistent with the Gospel and knowledge of the church and the United Methodist tradition. Members of the Adult Ed classes provide leadership for class courses on a voluntary basis. CE encourages small groups or classes that may meet outside of the Sunday morning time.
Men's Group
Wednesday's ~ 6:00 am - 7:00 am ~ the Parlor
This group meets weekly for prayer, devotions and coffee.
Contact Pastor Eric for information - (781) 729-5056
Women's Prayer Group
Thursday's ~ 6:00 am - 7:00 am ~ the Parlor
This group meets weekly for prayer and devotions using the Upper Room.
Contact Sue DiMarzo for information - (781) 729-6740
Spiritual Enrichment Group
First Monday of each month ~ 7:00 - 8:30 pm ~ the Sanctuary
This group supports group member's desire to experience increased awareness of God's presence and to respond to God's call to live a holy life. There is time for faith-sharing and practicing a variety of prayer activities.