Worship Details
First Timers
Welcome to Crawford Memorial United Methodist Church of Winchester!
On your first visit to worship, park on any street surrounding the church or in one of our lots. We have parking spaces for guests and the elderly in the rear of the church, as well as barrier-free access on the Dix Street side of the church (see below). If you need directions, click here. Enter our main sanctuary through the front or rear of the church. Once inside, you will be greeted by an usher, who will offer you a worship program and guest name tag. You are welcome to sit on either the main floor or in the balcony.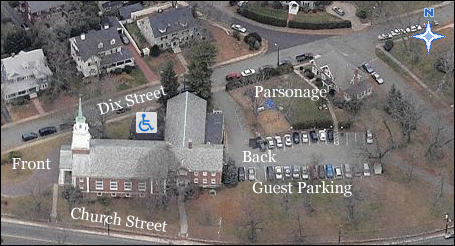 After the 10:45am service, mix and mingle in Gifford Hall during our Coffee Hour. Every Sunday you will find juice, coffee and water as well as some treats (sweet and otherwise). Who knows, you may even meet some new friends!
We look forward to worshiping God with you soon.